Party Bus in Aurora, IL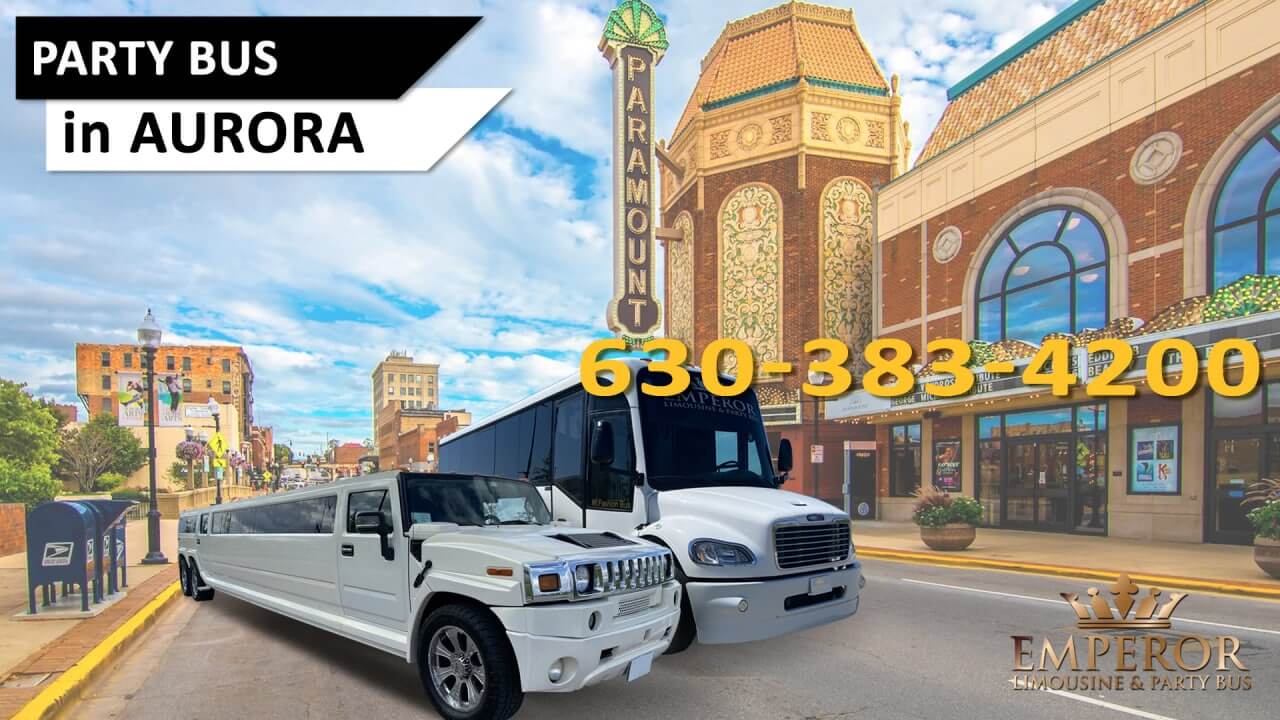 Aurora is a small city located in the state of Illinois, just 45 km from Greater Chicago. Residents often commute from their suburbs to the metropolitan area for both work and pleasure. However, it is very dangerous to drive drunk at night, but people still want to celebrate their holidays in the city. For such cases, our service comes to the rescue, when everyone can hire a party bus in Aurora and enjoy their solemn event all night in complete safety and comfort.
Why Rent a Party Bus in Aurora?
Hundreds of suburbanites and ordinary tourists often turn to our company for party bus rental in Aurora Il, because we have many advantages compared to almost all of our competitors, such as:
Our fleet offers only our buses with low mileage, tuned for the noisiest and funniest party.
Only we are ready to provide not only combined travel programs but also to satisfy the wishes of any customer, regardless of his gender, age, and the upcoming identical event.
We rent our buses both hourly and daily.
We will serve a bus near you when you specify the address in the application.
Our drivers undergo special training courses for driving a bus in an extreme situations, which guarantees the complete safety of each guest,
Each customer of our company is fully insured against accidents.
We will provide you with a secure parking space for your car nearby.
To order a service from our company, just contact us at the contact phone number listed on the site, or fill out all the lines of a convenient interactive feedback form, and we will call you back as soon as possible.
Party Bus Services Feature
Especially for our customers who plan to use pick up drop off party bus services in our company, we are pleased to offer the following travel and entertainment options:
Internal tours of Aurora.
Trips to and from Greater Chicago, visiting cultural and historical sites in the city.
Organization of night outings around Chicago, visiting such high-profile clubs as Nikki's Night Club or Wrigley Ville, it is also possible to organize gastronomic tours to the most exquisite restaurants.
Holding non-standard wedding parties or engagements of young people.
The departure of fashionistas for shopping in the most popular malls of the metropolis.
Organization of noisy gatherings of friends, stag and hen parties.
Organization of children's holidays for the youngest guests and schoolchildren.
Family excursions to various amusement parks.
In addition to the services listed above, our customers and guests can also provide their entertainment program, plan their route, and we will take this into account when concluding a contract for renting a party bus.
Our Services Included
Our Party Bus Fleet Amenities
We guarantee the rental of only the best and most comfortable party buses, equipped and tuned with the latest technology.
Inside the bus, there are comfortable soft sofas.
The atmosphere in the salon is conducive to celebration and fun.
Powerful sound system with stereo speakers.
High-tech light music with various effects.
Bar counter with a fridge where you can put drinks.
A dance podium that even has a striptease pole.
Plasma panels on the walls of the salon with a DVD system and karaoke.
Decoration of the interior space, according to the wishes of the customers and depending on the category of the solemn event.
Our Party Bus Fleet in Aurora Area
How Much is an Aurora Party Bus Rental Price?
All potential customers of our service are interested in the cost of rent a party bus, and we are pleased to offer the lowest prices and rates. The final cost is formed only after the approval of the estimate and the study of the task from the customer since the correction factors depend on the distance, the duration of the lease, the number of stops such as the internal equipment of the bus, and many other factors. However, most of our customers leave only positive feedback about our work, noting the best combination of affordable price and quality of service, flexible approach without quotes, and any restrictions.
Service area
Our service areas include Aurora, IL and surrounding areas (60502, 60503, 60504, 60505, 60506, 60507, 60568, 60569, 60572, 60598).