Party Bus in Bensenville, IL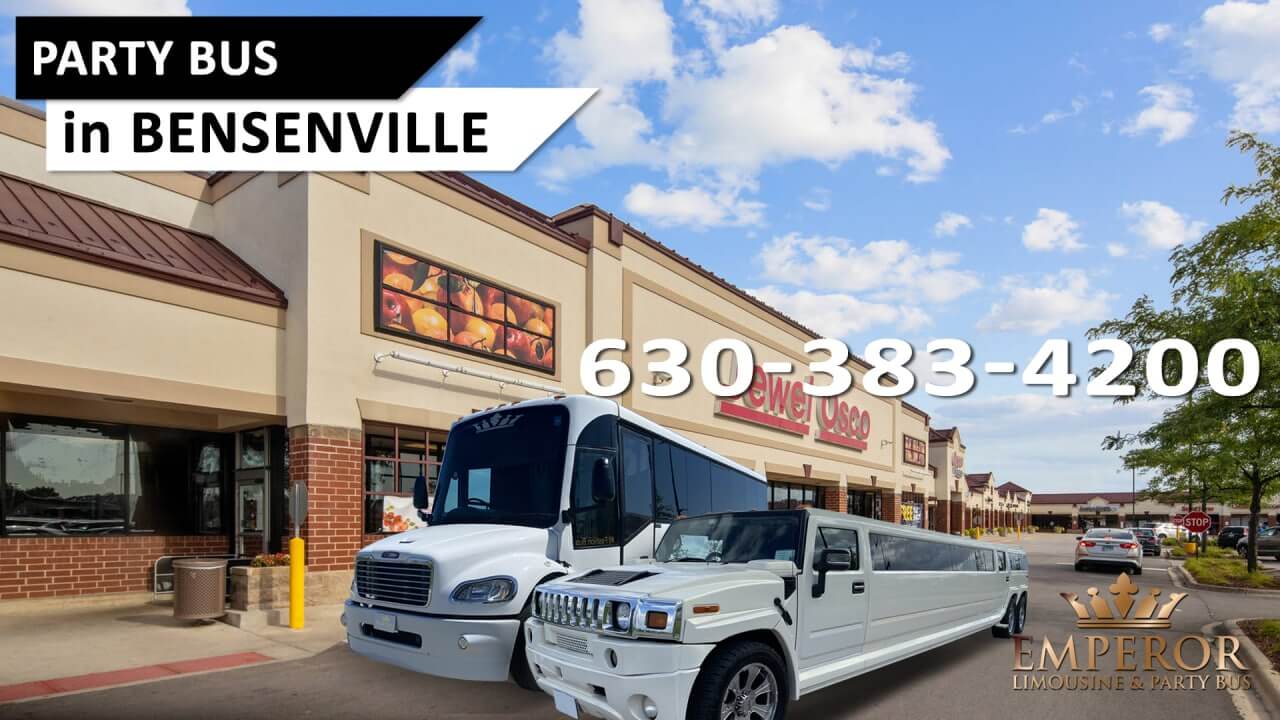 Bensenville is a relatively small town located just 30 miles from Chicago, Illinois, and its residents often seek weekend or evening entertainment in the metropolitan area. Of course, not everyone wants to drive home drunk. In such situations, our company comes to the aid of our customers, where everyone can hire a party bus in Bensenville and enjoy their solemn event on the way to big Chicago.
Why Rent a Party Bus in Bensenville?
Many residents of the region who are our permanent customers, as well as new customers contact our company for party bus rental in Bensenville Il, as we are distinguished by the following advantages:
We work with all categories of customers – with women, men, and children, regardless of age and tasks assigned to us.
In our fleet, there are only new and technically sound buses tuned using modern innovative solutions.
Submission of the bus after filling out an application near you, when specifying the address.
We organize both combined trips by our program, and are ready to take into account all the wishes of the customer.
We will always give you time to park your car somewhere nearby.
Our company provides a service for both hourly and daily rental of buses for parties.
Each of our passengers is fully insured against uncountable cases, and our experienced drivers guarantee the complete safety of customers during the trip.
Our satisfied customers always leave only positive feedback about us from independent sources on the net, and experts have long positioned our company as one of the best in the region.
Party Bus Services Feature
Our customers using pick up drop off party bus services in our company receive the following list of features:
Organization of parties for close friends.
Meetings of graduates of schools or higher educational institutions.
Organization of engagement, wedding celebration.
Holding adult and children's birthdays.
Trips to fun stag and hen parties.
A domestic short tour of Bensenville.
A trip to Greater Chicago with a tour of all historical, cultural, or entertainment attractions.
Organization of enchanting shopping at The Fashion Outlets of Chicago-Rosemont.
Family or children's trips to theme parks entertainment with animation.
Interesting trip for teenage athletes to Dome Ball Park.
In addition to the services listed above, we will also be happy to create an individual program for our customers, who can always share with us their plans for the upcoming trip.
Our Services Included
Our Party Bus Fleet Amenities
We guarantee only the best party buses with the necessary equipment from world-famous manufacturers.
The interior trim of the bus is designed as if a person will get into a nightclub.
Great stereo system with powerful speakers and bass.
Creative lighting with multiple levels that can be controlled from the remote control.
TVs with high resolution and large screens, karaoke systems.
Dance scene, striptease poles, bar counters, cocktail tables.
Decoration of children's holidays with balloons, and decorative elements.
Comfortable sofas for guests, guaranteeing complete safety during the trip.
To order a party bus, simply call us at 630-383-4200 or leave your written request in the feedback box, and we will contact you.
Our Party Bus Fleet in Bensenville Area
How Much is a Bensenville Party Bus Rental Price?
Many customers often ask a question about the cost of rent a party bus, but we cannot immediately answer it. In fact, the final cost of the service depends on many criteria – the wishes of the customer, the distance of the trip, the duration of the rental, the category of the party, and many other parameters. However, we can say with full confidence that it is we who can provide the best service, adequate to the asking affordable price, without any quotes and restrictions.
Service area
Our service areas include Bensenville, IL and surrounding areas (60105, 60106, 60131, 60399).