Party Bus in Elgin, IL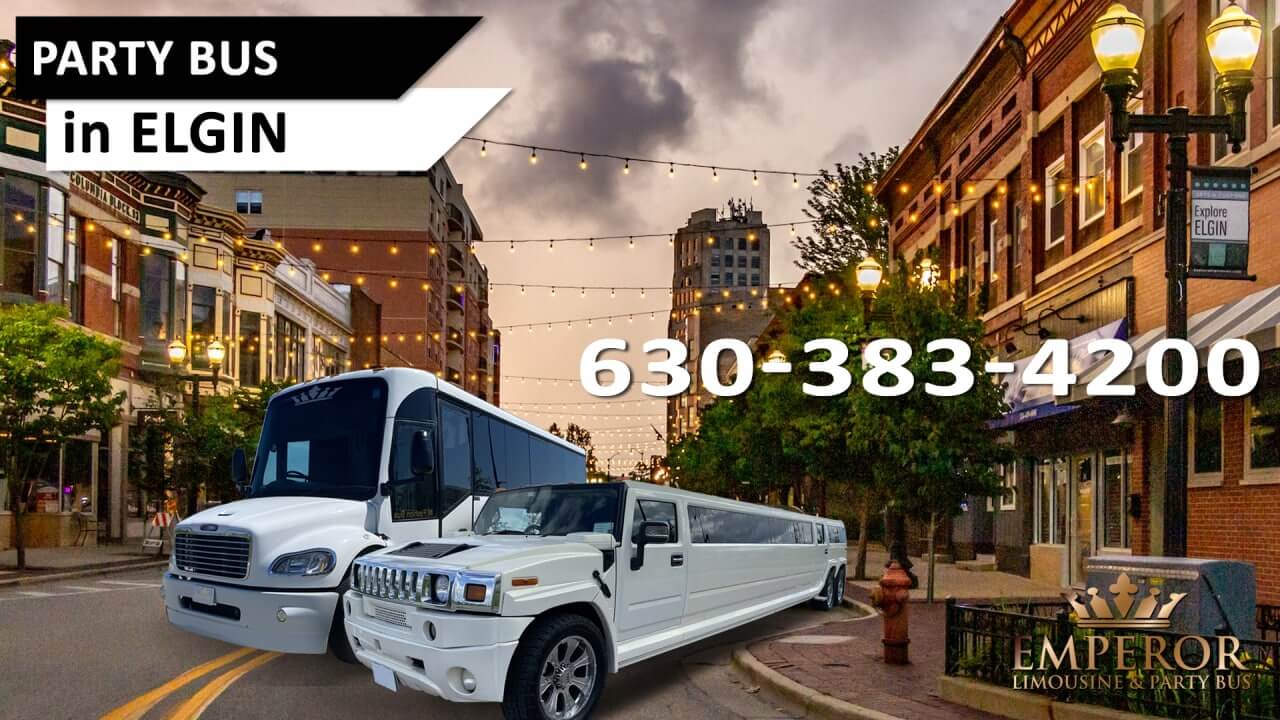 The small town of Elgin in Illinois has located only 65 km from Chicago, but there is also something to see here. In our company, you can always hire a party bus in Elgin, enjoy your high-profile grand event, and feel completely safe throughout the trip, day or night. We are ready to provide much more interesting services for our passengers than limousines or other transport companies.
Why Rent a Party Bus in Elgin?
Most of our customers, both locals, and tourists from all over the country, use our party bus rental in Elgin Il service, as we have many advantages over competitors:
We are always ready for an individual approach to each customer.
We provide only new and fully serviceable buses.
Our drivers are true professionals in their field, perfectly oriented on the roads.
With us, you can rent a bus both by the hour and by the day.
We work with all categories of customers, regardless of their gender, and age, as well as wishes and tasks.
We provide both individual and combined tours, or we form a special program, according to the wishes of the customer.
We are ready to provide parking for your car nearby.
Our reviewers and rating agencies recognize our first-class service at a reasonable price, as well as our professionalism and other qualities.
Party Bus Services Feature
When a customer contacts our company to organize pick up drop off party bus services, we are always ready to provide the following options for our best routes and activities:
Short night or day trips around Elgin, with a visit to the famous historical museum in the city.
Transfer of guests from Elgin to Chicago and back.
The bus can stop near you, according to your pre-order.
Sightseeing tours of historical or recreational places in Chicago.
Organization of wedding parties, stag, and hen parties.
Birthdays, anniversaries.
A special service for children with exciting animation.
Possibility of serving drinks and snacks during the trip.
A trip with teenagers or schoolchildren from 8 years old to the Epic trampoline park.
A gastronomic tour or trips to gambling establishments, including a visit to the famous Grand Victoria casino, as well as the best steak bar in the city, Fats's
In addition to the services listed above, each customer can also always draw up his own individual route, draw up a technical task for our employees on equipping and decorating the bus interior, and we will definitely take into account all wishes, without any quotes and restrictions. To book your party bus, simply call us at 630-383-4200 or leave a written request in the contact box.
Our Services Included
Our Party Bus Fleet Amenities
We serve only new party buses from our own fleet, from the world's best manufacturers.
Clean, tidy interior, equipped with the latest technology.
Comfortable seating.
Mirror ceilings.
Plasma TVs on the walls.
The best speakers, subwoofers, and a stereo system for surround sound.
If necessary, buses are equipped with dance floors, poles for girls, bar counters, refrigerators, as well as other means for entertaining guests.
The best and brightest light music with LED and neon lamps.
Our Party Bus Fleet in Elgin Area
How Much is an Elgin Party Bus Rental Price?
Of course, almost all potential customers ask about the cost of renting a party bus, but we, unfortunately, cannot give a specific answer to this question. The final cost of bus rental depends on various factors, which include the length and type of the route, the category of the customer's celebration, the number of guests at the celebration, and many other criteria. However, we can say with confidence that our price is fully adequate, affordable for middle-class customers, and corresponds to the quality of the services we provide.
Service area
Our service areas include Elgin, IL and surrounding areas (60120, 60121, 60122, 60123, 60124, 60125).