Party Bus in Joliet, IL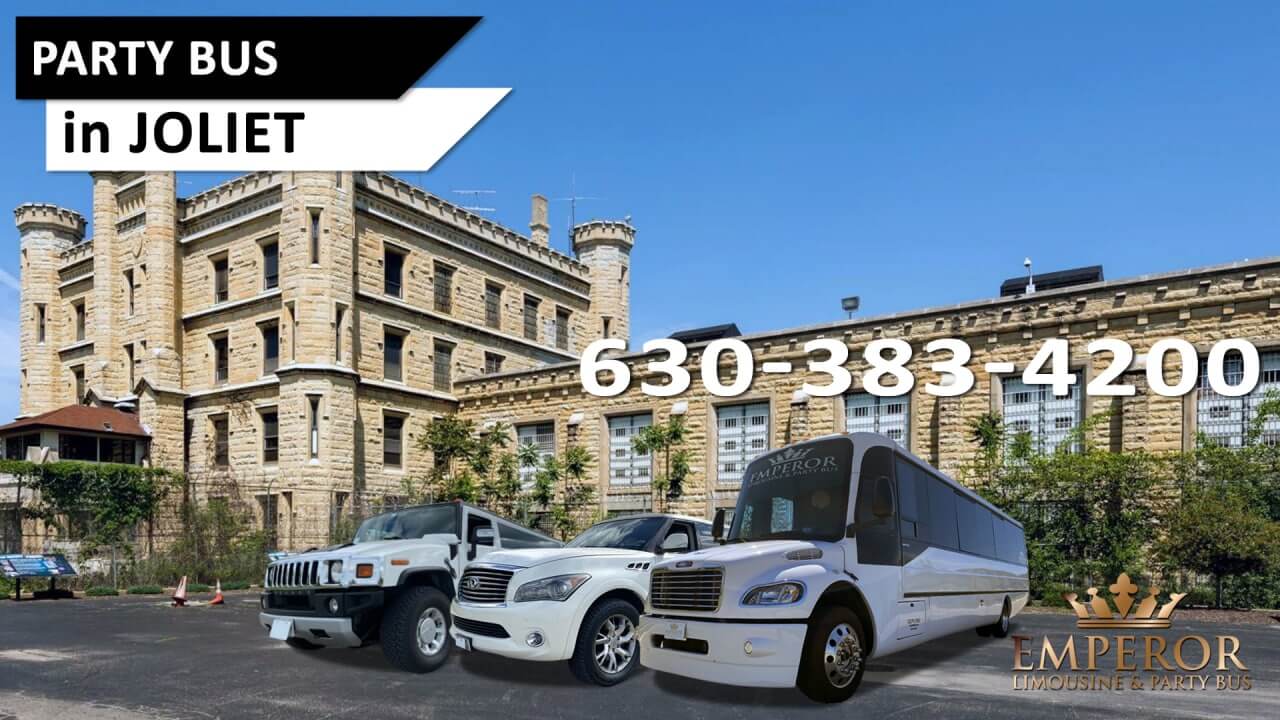 Joliet is one of the smaller towns located 40 km from Chicago, and many residents dream of going to the city for sightseeing or entertainment. However, not every driver wants to drive, and our company offers a unique service for ordering a party bus in Joliet.
Why Rent a Party Bus in Joliet?
Tourists who have visited the city, or its residents, order party bus rental in Joliet Il in our company for the following reasons:
We provide buses for a variety of celebrations.
We can offer a rental service both by the day and by the hour.
You can make a reservation just one day before the event, provided that we have a suitable bus for you.
Our fleet of buses includes luxury models such as Platinum, Titanium, or Venetian.
We always conduct our business completely and do not turn to intermediaries, which significantly affects the price of the service.
We offer promotions and birthday discounts for our customers.
The best technical equipment for the interior of buses.
You no longer have to worry about getting behind the wheel of a car after drinking alcohol.
We offer a bus near you.
According to customers and market experts, we are the best company providing such services in the area, and we are always ready to improve our work.
Party Bus Services Feature
When ordering pick up drop off party bus services in our organization, we are ready to provide the following services and ideas for celebrations:
Wedding celebrations.
Pre-wedding parties – stag and hen parties.
Meeting best friends, graduates of the school, college, or university.
Birthdays and anniversaries.
Romantic trips for couples in love.
Trips to the best attractions in Chicago for tourist groups.
Any other types of parties with alkyl drinks and snacks – for passengers aged 21 and over.
You can also offer your party program, and we will always be ready to take into account all your wishes and prepare exactly the bus that you need, without any quotes and restrictions. Just contact us at 630-383-4200 and we will be sure to help you.
Our Services Included
Our Party Bus Fleet Amenities
You can hire only the best party buses with perfect technical equipment.
Buses are equipped according to the latest fashion criteria.
There are comfortable sofas in the cabin.
Professional new audio equipment.
State-of-the-art air conditioning system.
Light music and disco lasers.
Huge HD TVs.
Dance floors and mini-stages, striptease poles.
Built-in electric fireplaces with real burning effect.
Mirrored ceilings with LEDs.
We are also ready to decorate the bus, especially for you, in an individual order, depending on the category of your party and its theme.
Our Party Bus Fleet in Joliet Area
How Much is a Joliet Party Bus Rental Price?
Most of the customers who apply for our service ask about the cost of renting a party bus. We offer a minimum fare of $30 per passenger to and from Chicago, round trip, which is affordable for most citizens. However, the final cost is determined based on of the estimate, which we draw up after consultation with the customer and fixing all his wishes. We guarantee only the best service in town and nearby at the lowest prices.
Service area
Our service areas include Joliet, IL and surrounding areas (60431, 60432, 60433, 60434, 60435, 60436, 60586).