Party Bus in Naperville, IL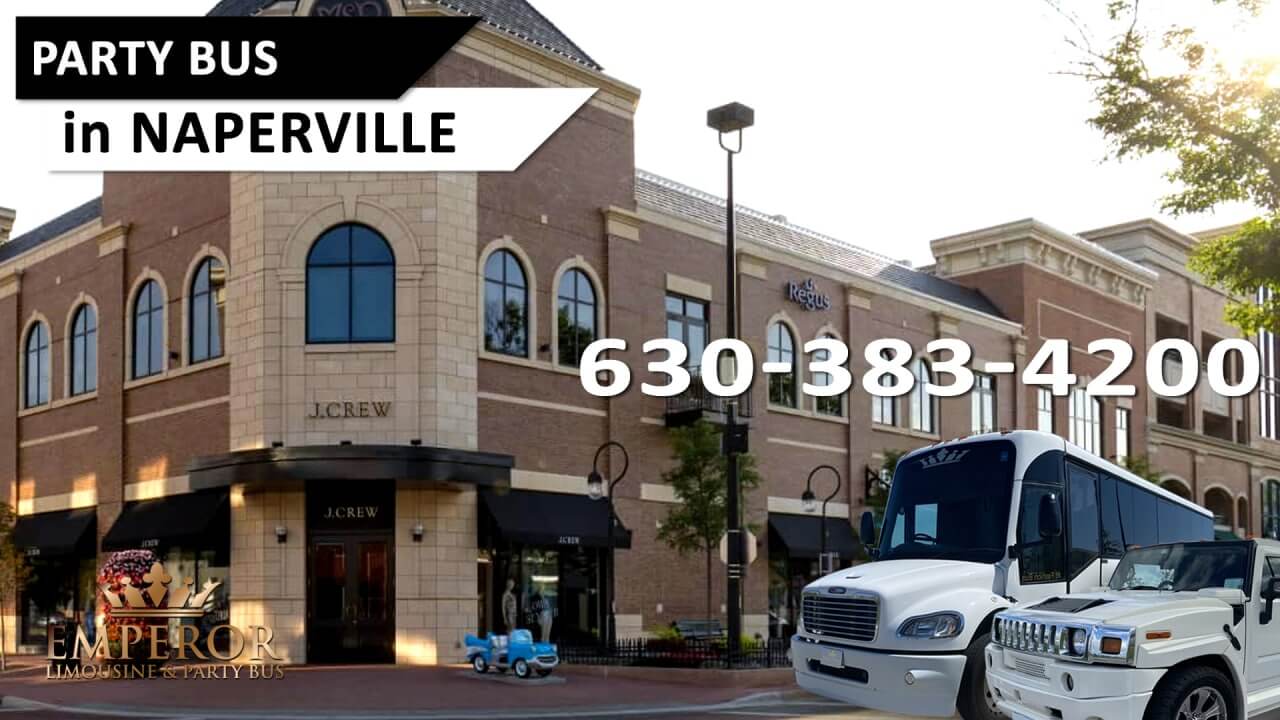 The relatively small and sparsely populated town of Naperville is located a few dozen kilometers from Greater Chicago in Illinois, and many of its residents often go on business or pleasure trips to the metropolis. Most people like to relax and drink alcohol on weekends, but after such gatherings, few people dare to drive back. It is for such potential customers that we are pleased to continue our service, where everyone can hire a party bus in Naperville, forgetting about problems and paying increased attention to comfort and safety.
Why Rent a Party Bus in Naperville?
Every customer who contacts our company for a party bus rental in Naperville Il points out the following many advantages we have over most competitors in the same business:
A special, flexible approach to each customer.
The offer of both standard programs and coordination with the customers of individual exclusive parties.
We work with both children and adults.
Extensive fleet of buses with the necessary technical equipment.
It is possible to order a bus 1 day before the request.
The supply of transport is near you.
Possibility to park your car in our secure car park nearby.
The most highly qualified and helpful staff.
Service only at the VIP level.
Reimburse party bus rentals both by the hour and by the day.
To rent a party bus from our company, simply contact us at 630-383-4200, or fill out all fields of the special form in the contact section and send us your written request. Our polite and competent staff will contact you shortly to clarify all the details.
Party Bus Services Feature
Each client who orders pick up drop off party bus services in our transport company receives the following set of interesting offers from our managers:
Organization of home tours of Naperville.
A two-way trip to Greater Chicago with a sightseeing tour of the city, sightseeing, and cultural heritage sites.
Gastronomic or cocktail tours to the best restaurants and clubs in the city.
Organization of weddings, engagements, as well as integral stag and hen parties before a future celebration.
Holding birthdays and anniversaries for both children and adults.
Organization of friendly gatherings, and business corporate parties.
Family trips to the most famous amusement parks in Greater Chicago.
The outing of fashionable girls for big shopping in the most popular malls of the city.
In addition to the proposals described above, each customer can also create their own route and give it to us for approval. We always organize exactly the trip with the number of stops that you wish.
Our Services Included
Our Party Bus Fleet Amenities
First of all, we offer our customers only the best and newest party buses.
A pleasant atmosphere with mirrored walls and ceilings awaits customers in the saloon of each bus.
Cascading LED and neon lights that can be made brighter or dimmer as desired.
Hi-tech TVs, DVD players, and microphones for songs.
Powerful music system with multiple speakers and premium amplifier.
Comfortable soft leather sofas with seat belts.
Bar counter, dance podium, pole for girls, and many other features of club life.
Separate decor for the youngest guests in the form of balls, additional lighting, and other details.
Our Party Bus Fleet in Naperville Area
How Much is a Naperville Party Bus Rental Price?
Many of our customers always ask about the cost of renting a party bus, because they often think that this service is not always affordable for the middle class. However, this is not the case, and we are ready to offer the highest quality VIP-level service at affordable prices. The final cost of our services is determined in the estimate, starts from $ 30 per person, and depends on the distance of the trip, the availability of quotes and restrictions on visiting clubs or other attractions, the number of guests, stops, and other criteria.
Service area
Our service areas include Naperville, IL and surrounding areas (60540, 60563, 60564, 60565).